10.11.2023 – This week, some of our school council members were chosen to represent our school at Middlesbrough Cenotaph to pay tribute to the fallen soldiers and those who are still protecting our country today. They laid crosses and poppy painted stones during the ceremony to show their respect. We were extremely proud of the way they conducted themselves during the service.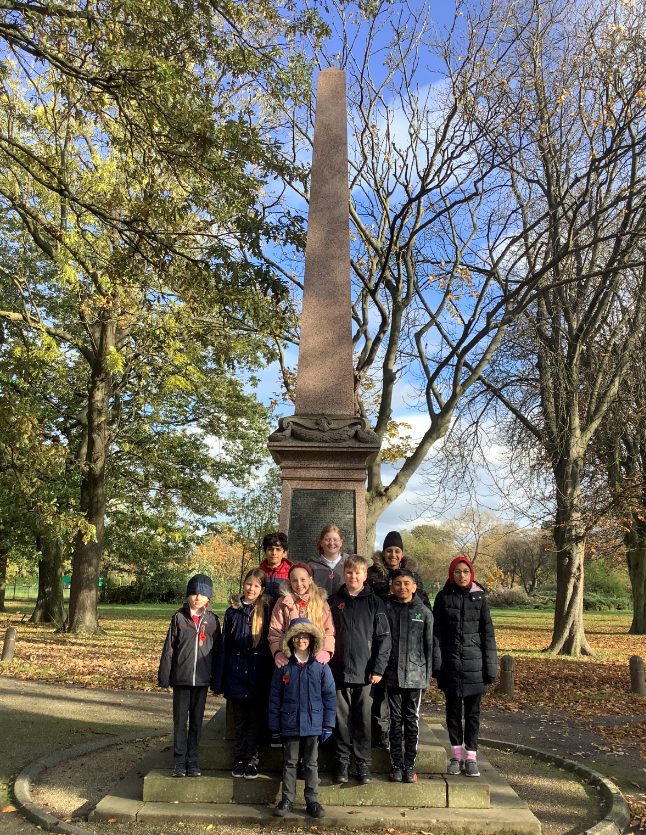 23.10.2023 – This week, each member of the school council collected data about Maths in school. They asked the pupils in their class a series of statements to answer and when we return after half term we will be analysing this data to inform the children the outcomes throughout school.
Also, some members of the school council have been chosen to represent Newham Bridge at the Cenotaph in Middlesbrough during a Remembrance Service on Thursday 9th November. They will have received a letter today which needs completing and returning on Tuesday 7th November to ensure participation. During the service, the children will be placing a cross in memory of those who fought in war, please take some time to discuss this with your child to ensure they are aware of the importance of this event.
16.10.2023 – This week, we have discussed Healthy Eating through school. We initially met and came up with some ideas to improve children's awareness and celebrate when healthy choices have been made. Our ideas were shared with the children through school and with Mrs Hewitt-Best.
As a result of these conversations, we have been able to implement an immediate change. First, the children throughout school with gain House Points from the kitchen staff when they have made a health choice during their school meal collection. All children in key stage one will receive a sticker if they have completed their school meal or packed lunch. Finally, all children in key stage two will receive a TIP (Ticket in the Pot) if they have completed their school meal or packed lunch.
The School Council will continue to monitor the impact of this and other changes may occur next half term.
| | | | |
| --- | --- | --- | --- |
| Hello, my name is Violet and I am in year 1. I wanted to be a school councillor to teach all my friends how to dance. | Hi, my name it George and I am in year 2. I want to be school councillor because I thought it would be fun and helpful. | Hi, my name is Vincent and I am in year 3. I really enjoy art and I would like to make school fun. I want to make my friends smile. | Hi, my name is Jack and I am in year 4. I wanted to be in the school council because my brother was in it last year so I thought it would be fun to help school too. I enjoy playing football and would love to set up a football club. |
| Hello, my name is Harry and I am from 2HH. I promise I will listen to children and never miss anyone out. I will also take action when needed in school. | Hello, I am Charlie and I'm in year 5. I am a good friend and I will listen to everybody. I also wanted to be in the school council because I promised I would make the school more fun and only make good changes, never bad ones. | Hello, I am Pearl and I am a school council representative. I wanted to be a member because I would like to change things for children in school. | Hi, my name is Belle and I am in year 5. The reason I wanted to be a school councillor because I am kind, caring and I think children can talk to me, so I can help them with their problems. I would also like to bring back Tuck Shop. |
| Hi, I am Ahmed and I am in year 5. I wanted to be part of the school council because I want to be kind and helpful to children. Also, I want to teacher children how to do some of my fun lessons, like Tomb Raiders. | Hello, my name is Simar, and I am in year 6. I am a twin and I love cricket. I wanted to represent our school council in our local area and promote positive changes in and around school. I promise to try and speak for my fellow students. | Hello, my name is Zarwa and I am in year 6. I wanted to be on the school council because I wanted to help my friends and assist in things they would like. Also, it was a very nice thing to participate in and I hope you enjoy me being a school council member. I would like to start by improving the girls toilets. | Hello, my name is Zak an I am from year 6. I love technology and I believe I would make a good school councillor because I will not make empty promises. Also, I am a good public speaker and listener. I believe I can add to this school by creating new after school clubs: cricket and football. I am ready to make positive changes for the students of Newham Bridge Primary School. |
| Hi, I am Layla and I am in year 6. I joined the school council because I wanted to make positive impact throughout school. | | | |